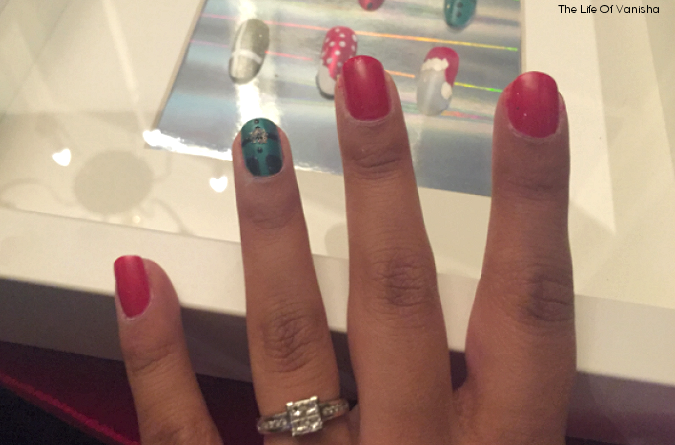 I love a good Christmas Manicure. I tend to do my own nail art every year for Christmas opting for cute elf shirts, Santa uniforms or Christmas pudding nails as opposed to bold colours for Christmas. This year, however, I was treated to a manicure by none other than Nice Nails Baby, who were treating bloggers to a Christmas Manicure at the #BloggersXmas event a few weeks back now. So this week, for Manicure Monday, I'm happily showing off this creative and beautiful hand-designed nail art crafted by the ladies from Nice Nails Baby.
The nail art itself took about half an hour to get just right, and I patiently watched in awe as the ladies carefully matched the design I had chosen. The nail art was created with a simple thin nail art brush, and nothing more than the colours I had chosen. The ladies from Nice Nails Baby truly did seem as though they had a passion for creating the designs for the Christmas nails, and it really motivated me to want to start playing around with different designs on my nails – though, I didn't quite the designs as intricate as they did!
What's your Manicure Monday this week? Have you designed your own Christmas nails?