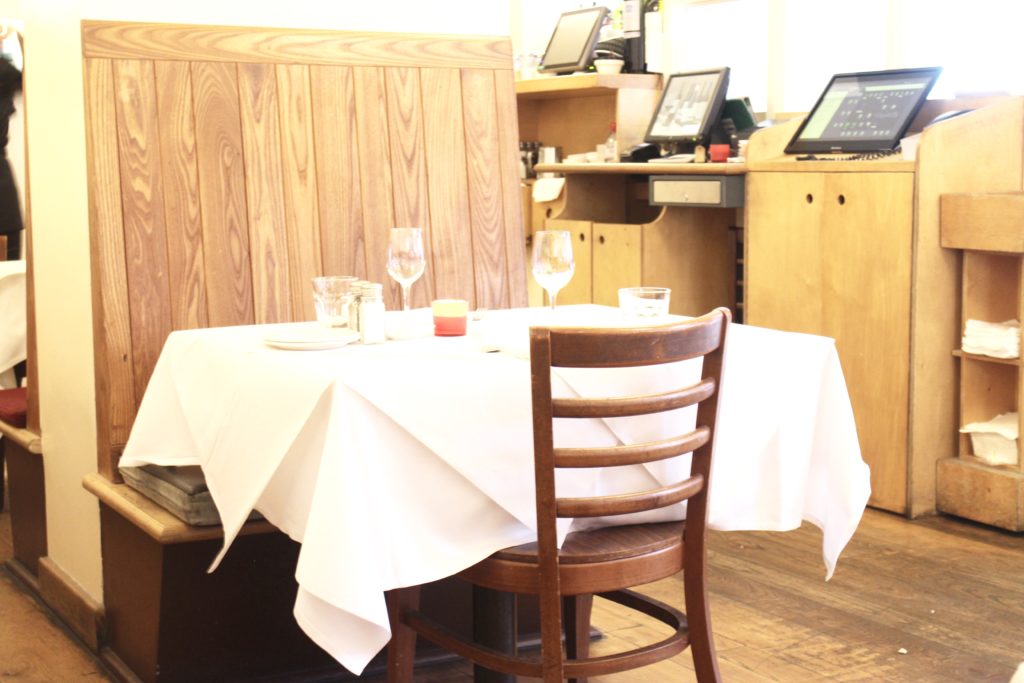 Hidden in the heart of Holborn is a restaurant that will be one of your biggest regrets if you do not visit. I was invited to go visit the Cigala Restaurant* last Friday night for an intimate 3 course authentic Spanish meal. I've only had Spanish food a handful of times, but every time I've opted for Spanish cuisine I've never been disappointed, so I had high expectations for Cigala Restaurant.
Cigala Restaurant is known to many as a favourite for professionals and those who want a low key dinner – don't be put off however, as the restaurant opens it's doors to everyone. Not only are the staff within the restaurant highly attentive but they are extremely welcoming.
As soon as we entered the restaurant we were greeted by the owner and chef Jake, who is actually one of the co-founders of Moro. Be assured, this wasn't just because we were invited to the restaurant, but on looking round the restaurant, I found that Jake was making his way around the tables and greeting all his guests – it almost seemed as though he knew each one. It's things like this that, I feel, really make a restaurant special – it's the attention to your guests that make it personable.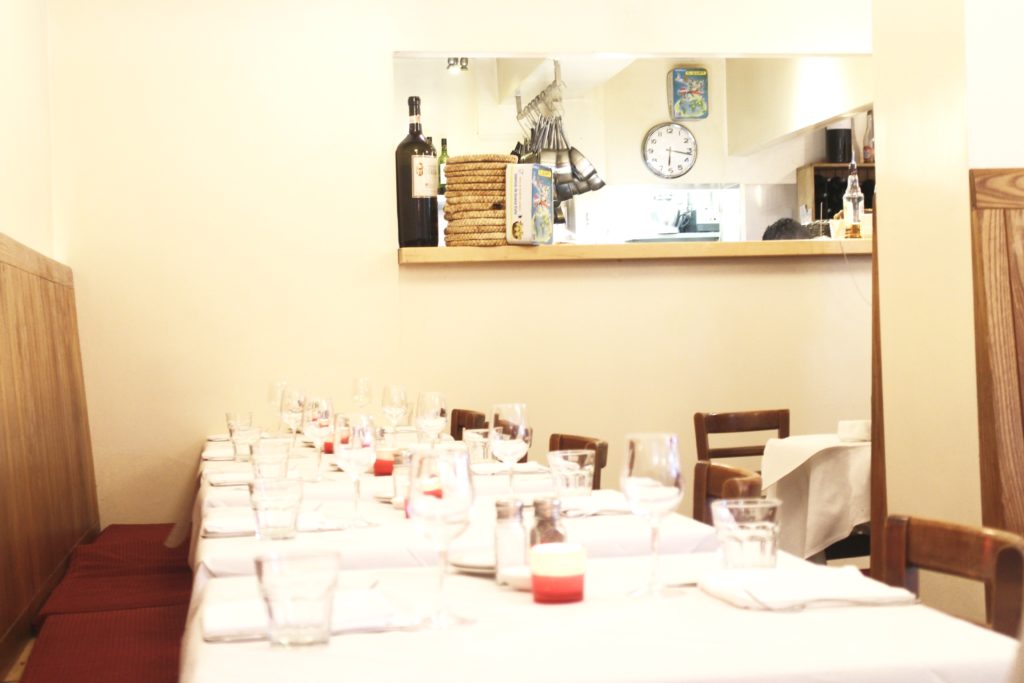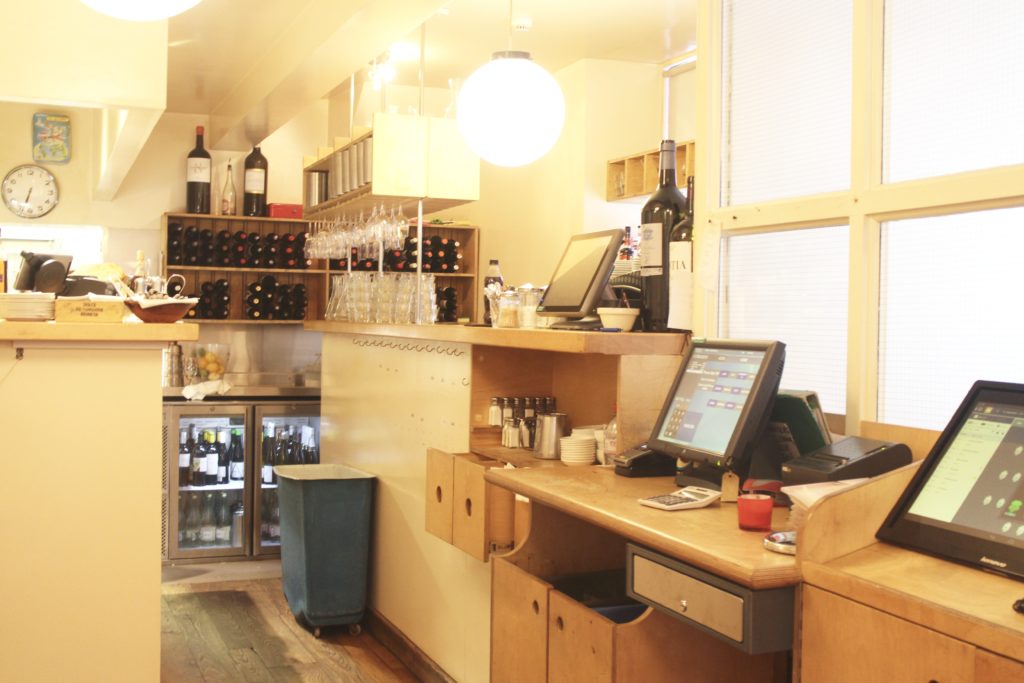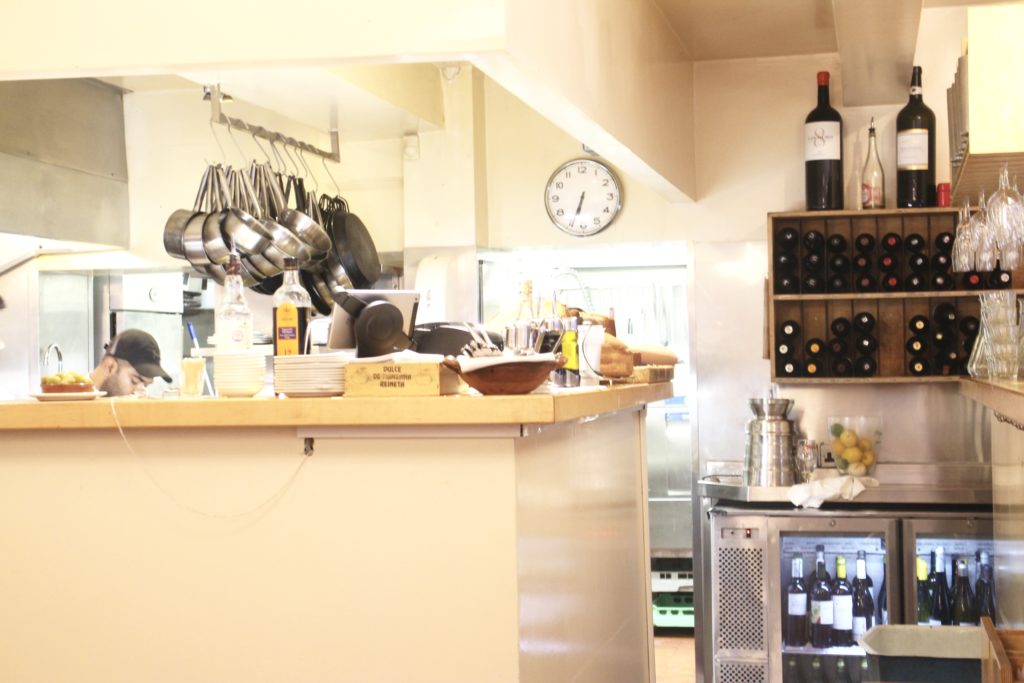 The ingredients used within the dishes are boasted to be bought directly back from Spain by Jake, so you know that you really are getting the authentic taste of Spanish food, without even needing to leave the country. The menu is full of great dishes, some of which are your typical Spanish dishes – Paella's, Calamari to the more authentic dishes such as black squid rice. With the menu also focusing on the tapas side of Spanish dining, you can really leave it open ended as to how you want to dine – play safe, or go for authentic dishes.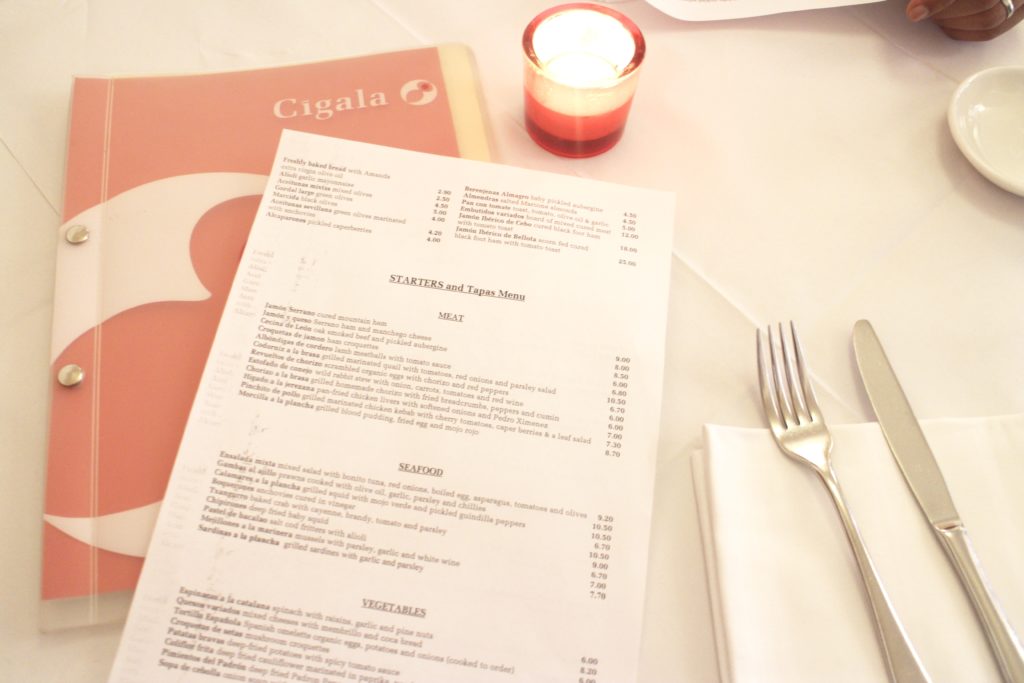 Although the restaurant isn't your usual style of restaurant i.e. not everything is branded, and it slightly looks like a restaurant that would fit perfectly in abroad, rather than in the bustling city of London, don't judge this restaurant by it's exterior. It has purposely been decorated in such a way, to make it discreet and intimate, choosing to focus more on the flavours of it's menu rather than flashy branding.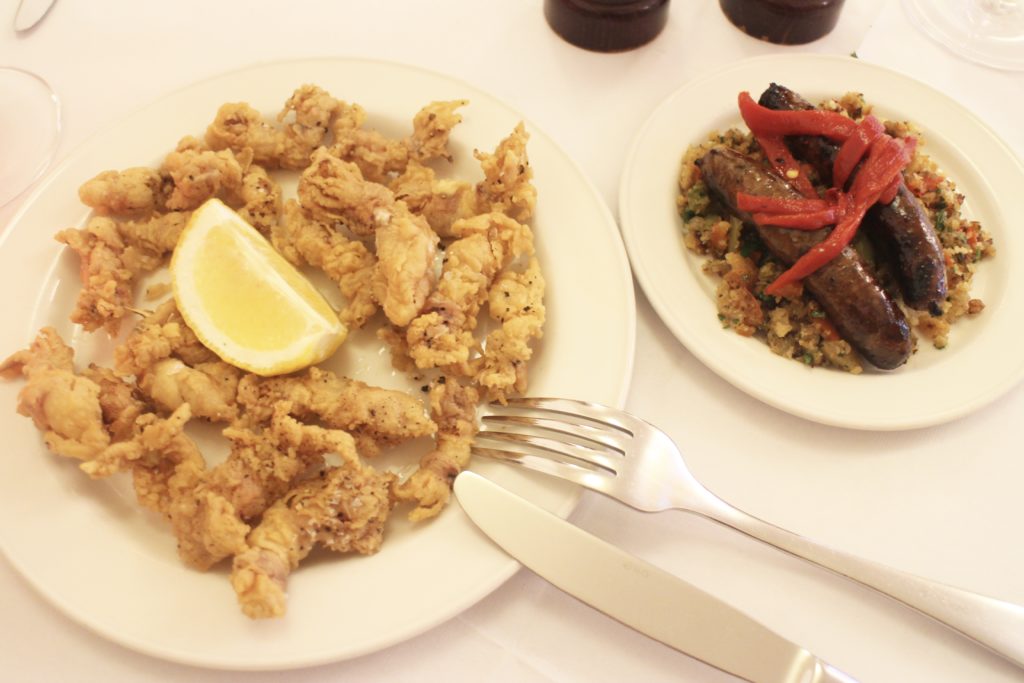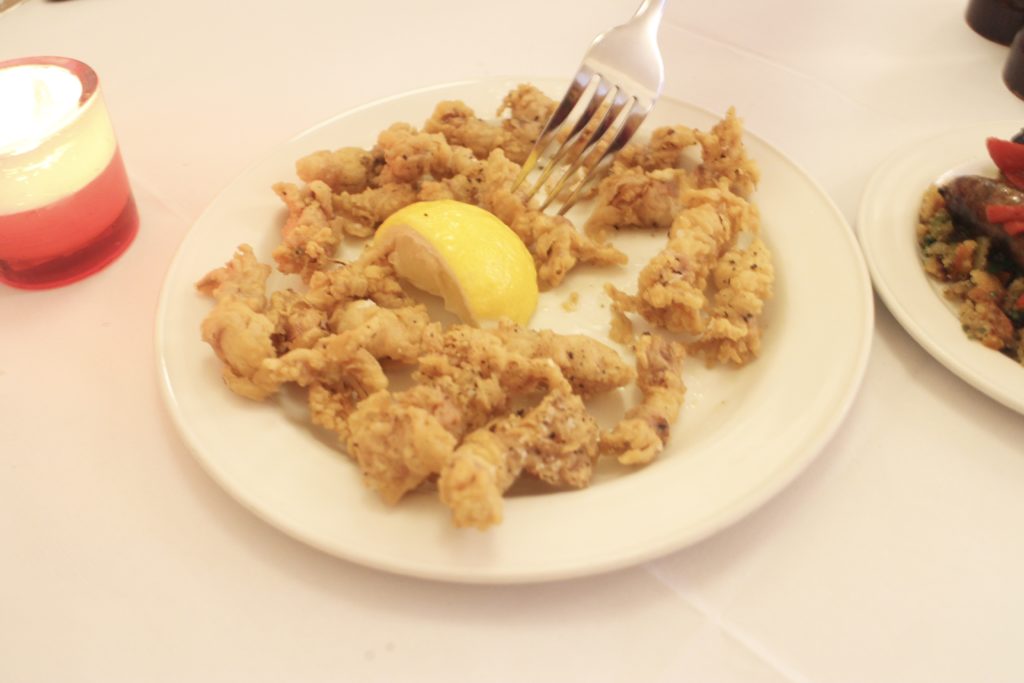 Now down to the important bit, the food, we ordered from the set menu, rather than the main menu choosing to want to try all three courses at the restaurant. For starters we opted for Chorizo a la brasa, which is a grilled homemade chorizo with fried breadcrumbs, peppers and cumin – the chorizo itself tasted unreal – it was honestly way better than shop bought chorizo.
We also went for Chipirones, which is deep fried squid, served simply with lemon for seasoning. Usually in restaurants we get some sort of side dip with this, but the squid here just didn't need it. Here we opted for something we knew, and something that we thought would be authentic. You really can't go wrong with this mix, and the staff were more than happy to give us recommendations based on our tastes.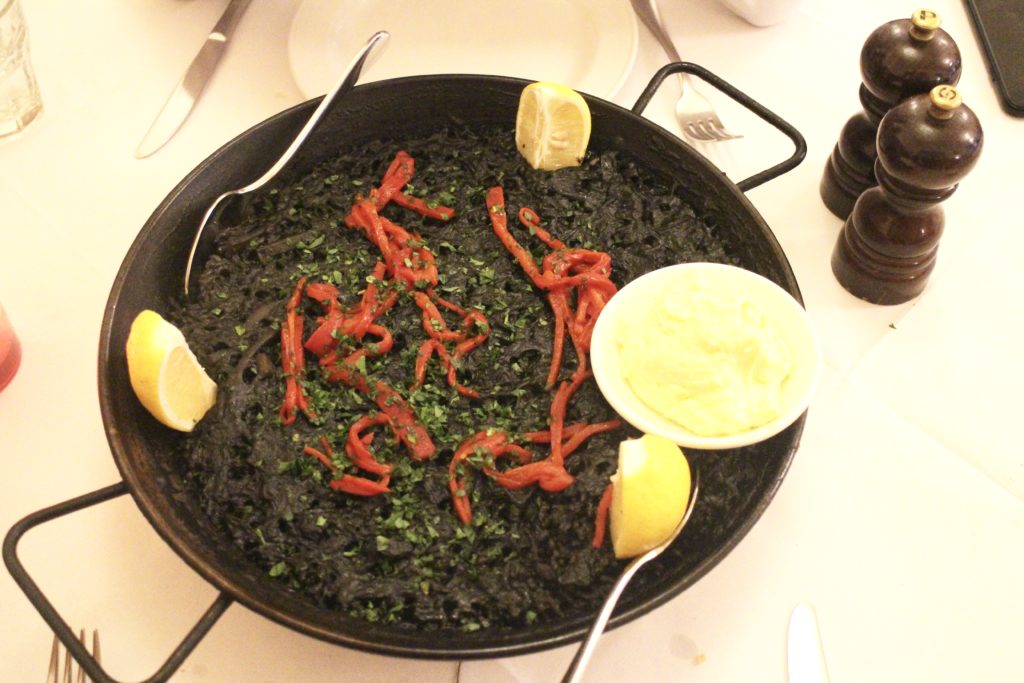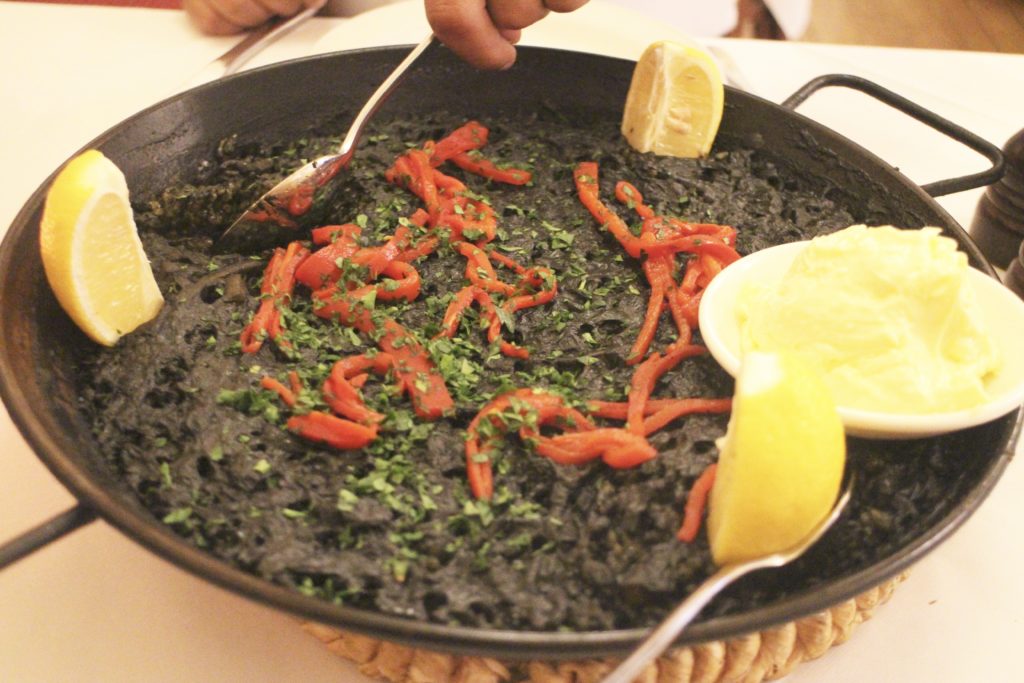 For mains we went for Arroz negro, which was black rice and squid. This is a sharing dish between two people. Although I had tried black rice before, my husband hadn't, so he was intrigued to give this one a go. For those who don't know what black rice is, it's a type of rice that as the name says, is black in colour, and tastes slightly nutty – so not rice you tend to have a daily basis.
It adds a great flavour to any dish, and this one was no exception. It was creamy and cooked perfectly with the squid and side dip of garlic mayonnaise. We were, however, advised that as it does take longer to cook black rice, it would be 20-30 minutes before it would be ready, so take this into account if you do order this dish.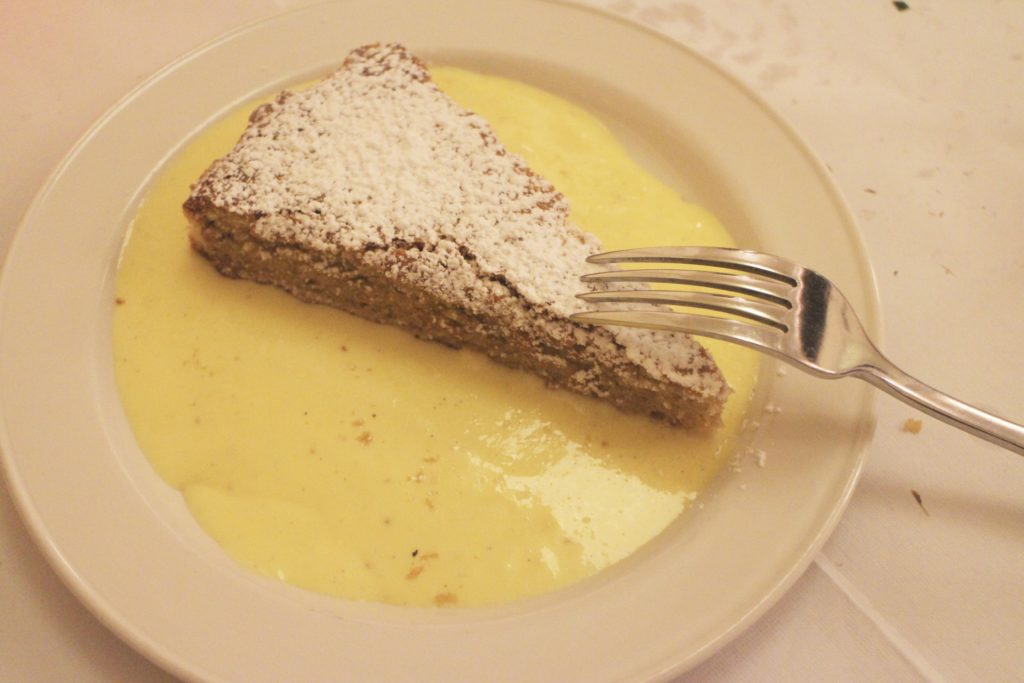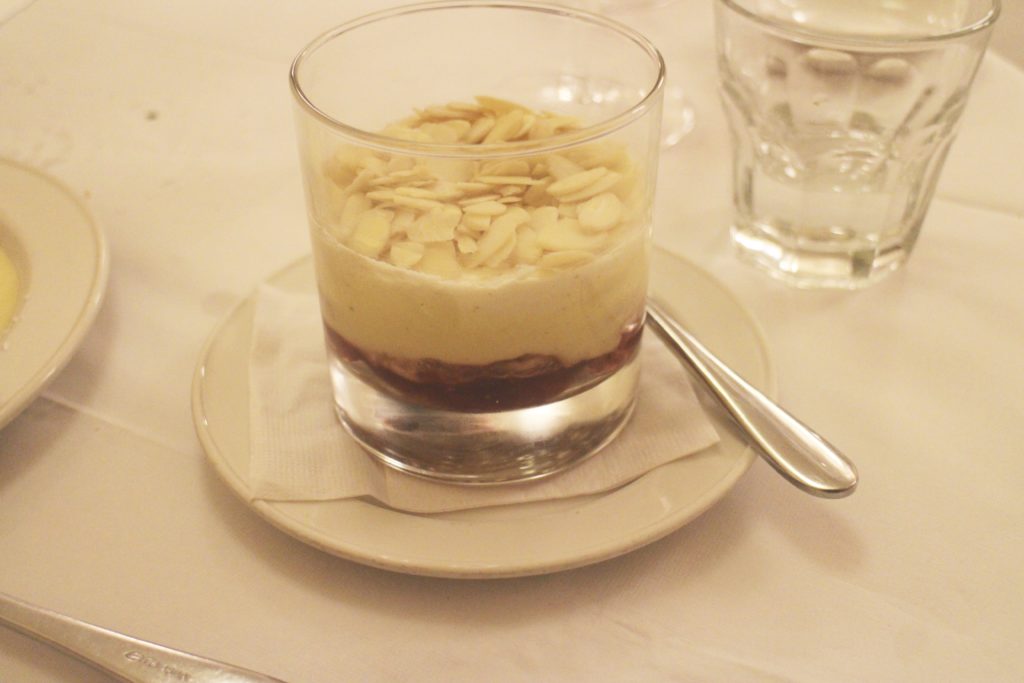 Although we were completely stuffed after the first two courses, who can say no to dessert? For dessert we opted for Tarta de santiago, an almond tart with vanilla cream and Sopa Inglis, a sherry truffle with banana. Although I'm not a fan of alcoholic desserts, the sherry complimented the banana and wasn't overpowering in taste. The almond tart was just perfect, and reminded me of almond croissants!
Of course we needed to try out the wine, which was carefully picked for us by Jake based on our tastes – if you're going to go for a glass of wine here, go for the pinot noir – you can thank me later.
Our final thoughts on Cigala Restaurant is that is honestly is a hidden gem in the heart of London, although tucked away from the hustle and bustle, it is without a doubt worth booking a table at this gem.
Have you visited Cigala Restaurant before?