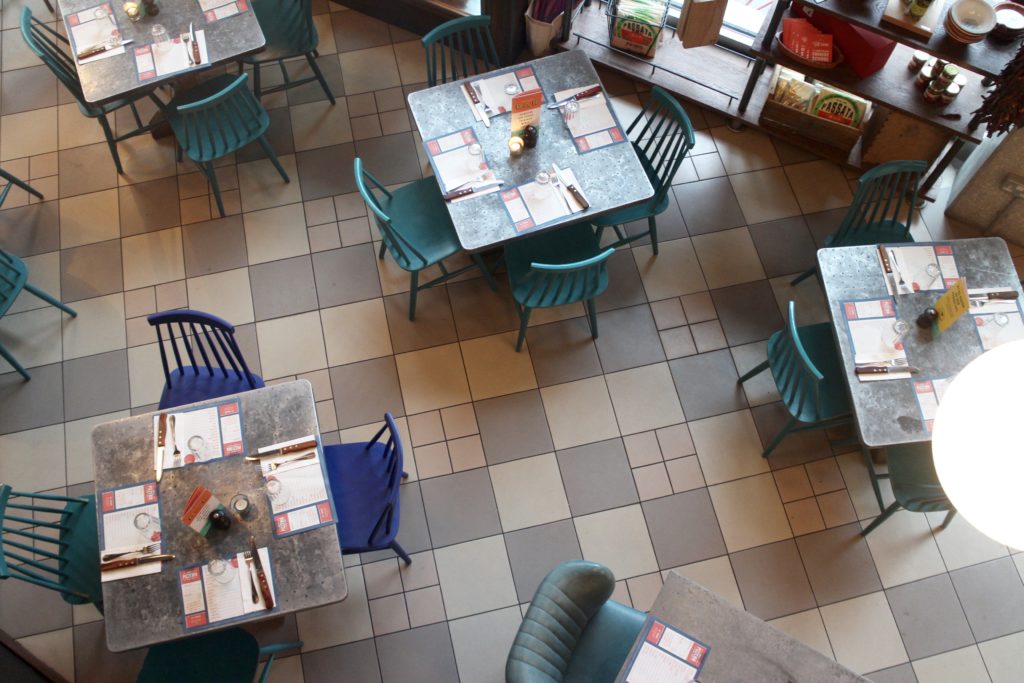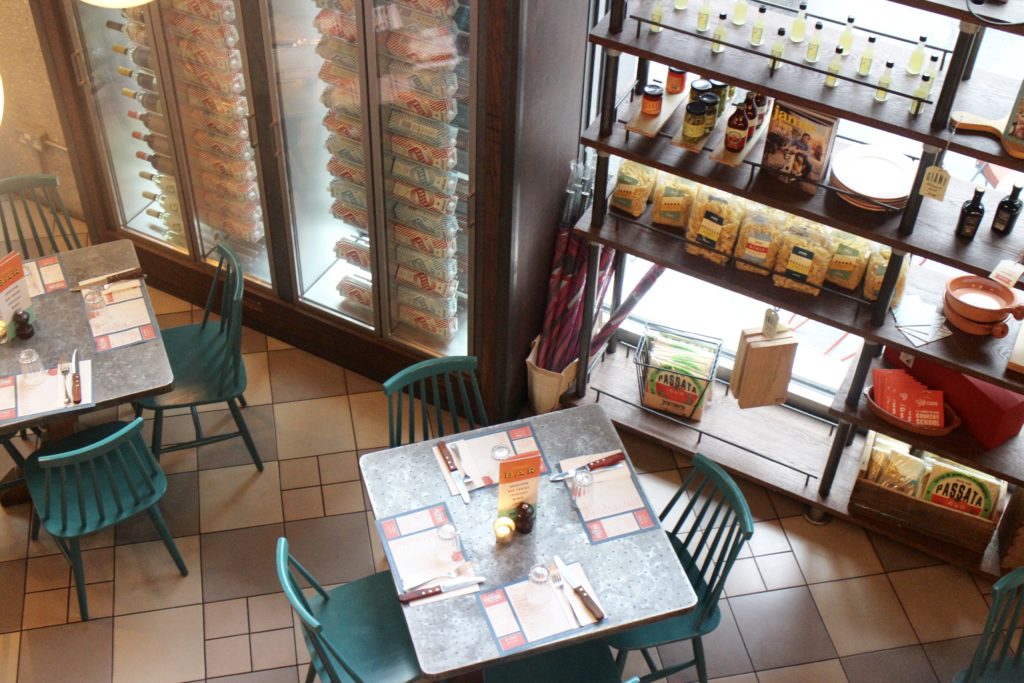 Last Saturday night my husband and I were invited to Jamie's Pizzeria* in Victoria as part of our weekly date night. Date nights are something we have both valued as important on a weekly basis, to really just take some time off from our daily stresses of our jobs, and to make time for ourselves. We both love Italian food – so much so that we've actually booked a long weekend trip away to Naples, for our wedding anniversary in a few weeks time – so heading to Jamie's Pizzeria last weekend was an easy decision to make.
Although it was typical British weather over the weekend, we didn't let the weather ruin our evening and looked forward to some great food – and amazing cocktails.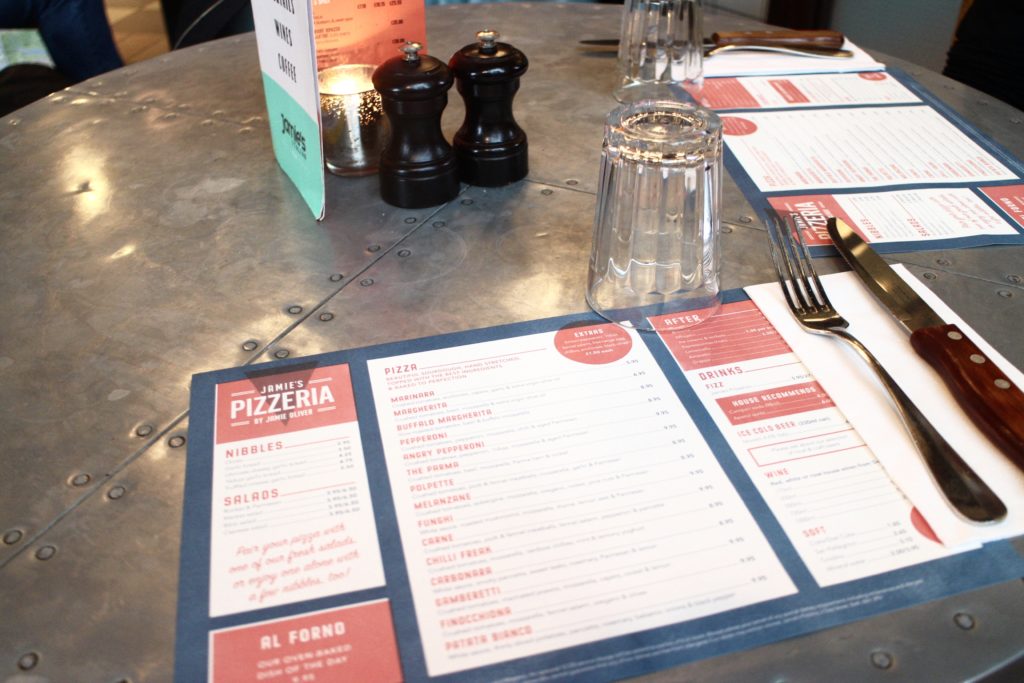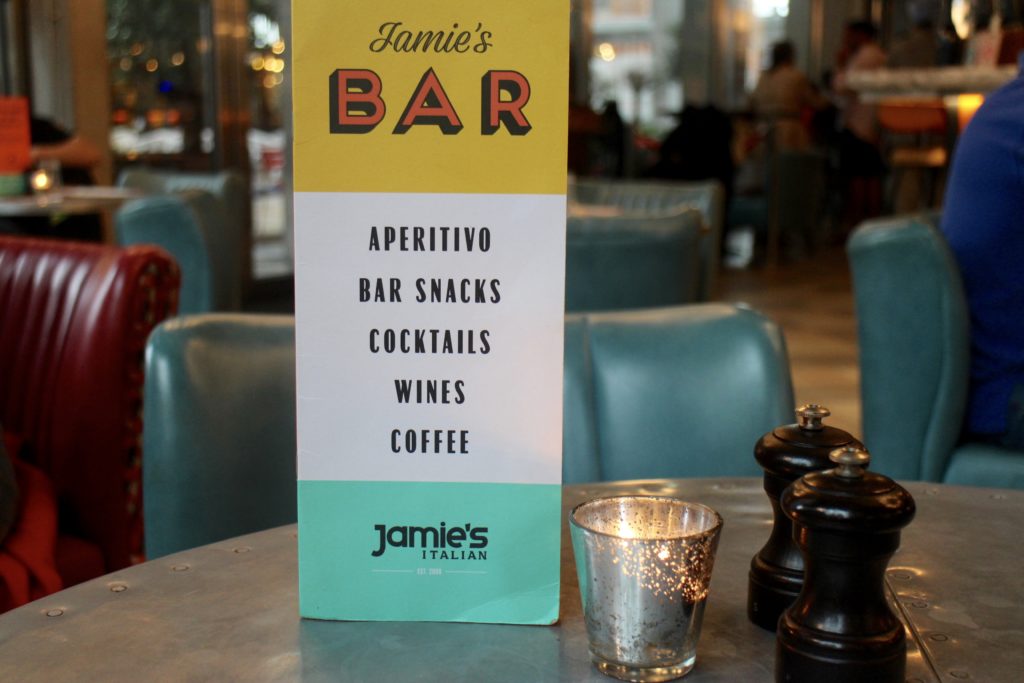 The restaurant is located a short walking distance from Victoria station, and is easy to find with the custom "Jamie's restaurants" signage and logos around the building. Jamie's Pizzeria in Victoria is actually located on the ground floor of the Jamie's Italian restaurant, and is almost like a "pop-up restaurant" which gives you the option of either having a full sit down meal within the Italian restaurant, or a quick, great value, flavoursome meal within the Pizzeria. If you're looking for oven-baked pizza, nibbles, and drinks all incorporating the flavours Jamie Oliver is known for – head to the Jamie's Pizzeria!
There was a very relaxed, low-key feel to the Pizzeria, which makes it perfect if you want to pop in and grab a quick its before a night out with friends, or a cinema date. It's somewhere you would head to if you're looking for somewhere casual to spend your evening.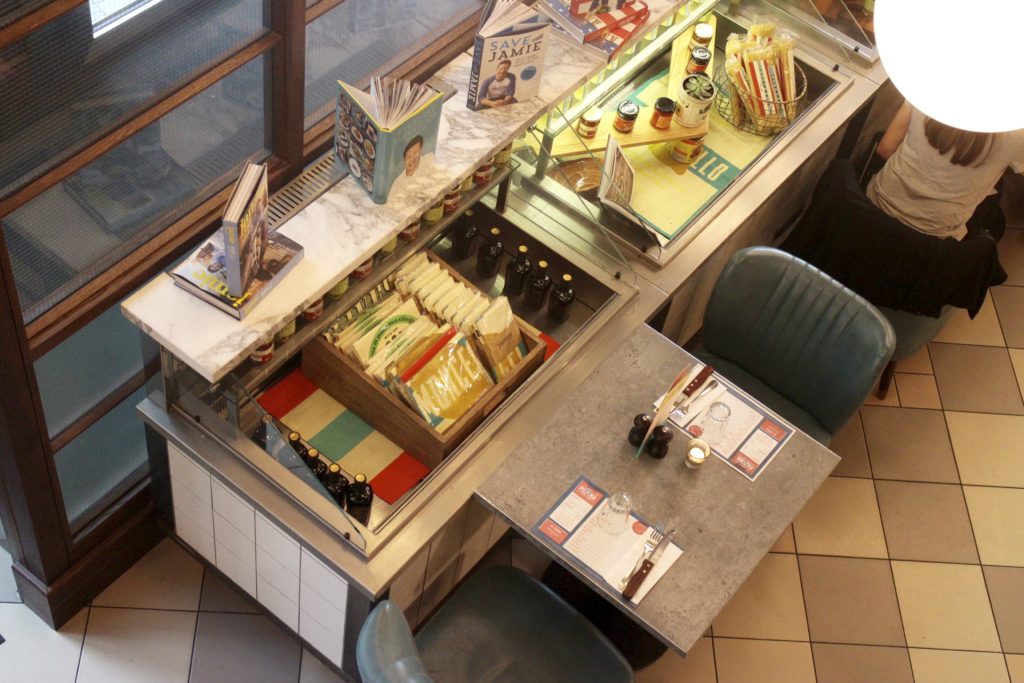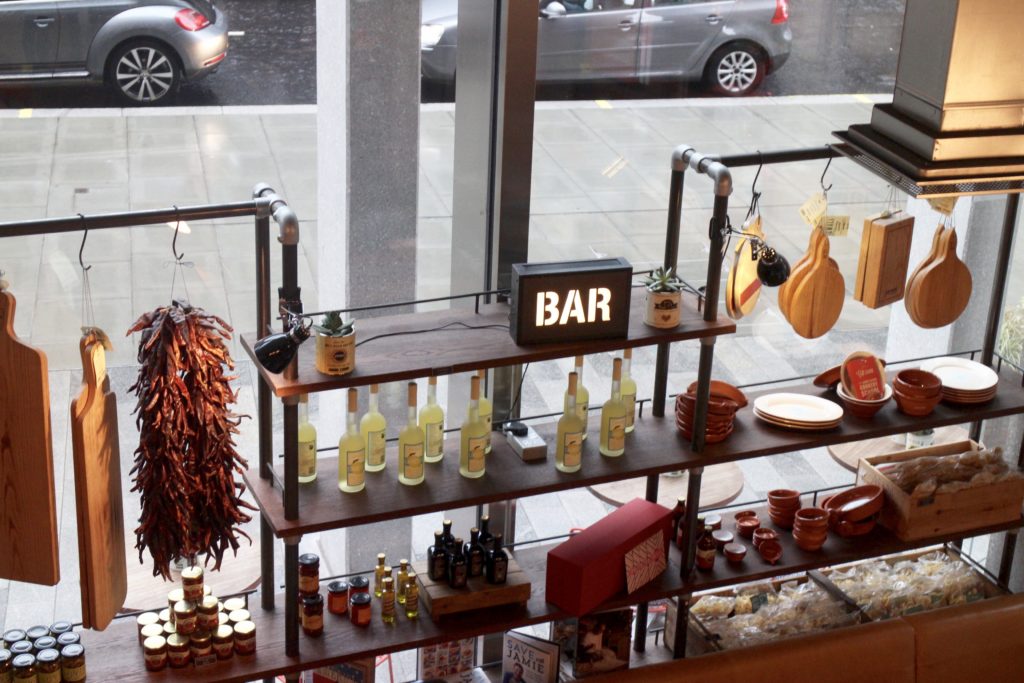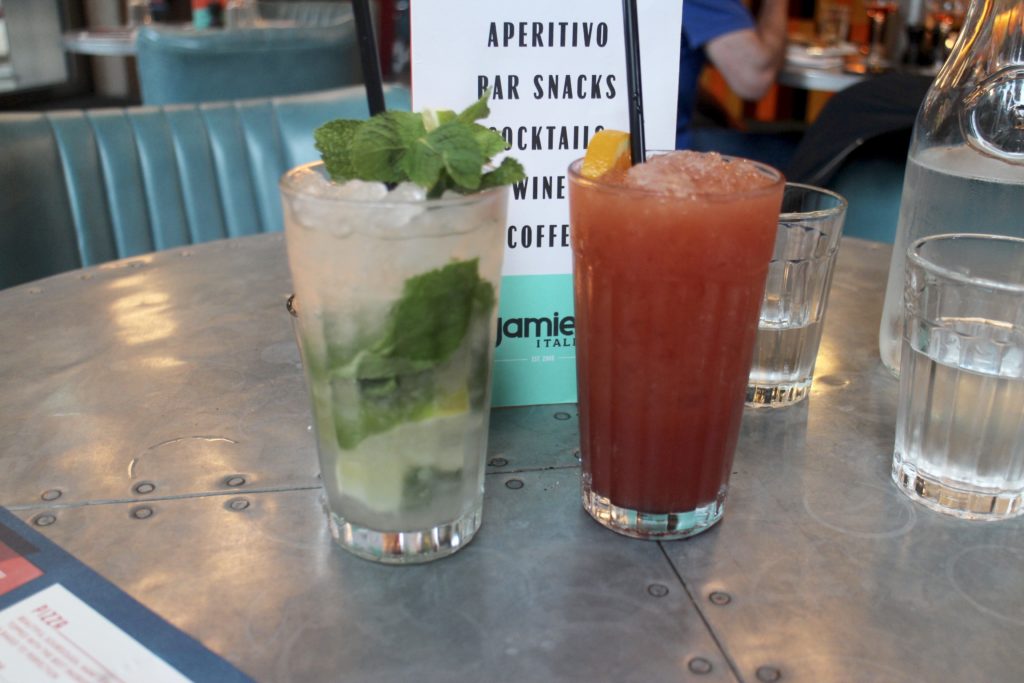 Starting our meal off with the important bit – cocktails! Jamie's Pizzeria does not disappoint, with their own twist even with the ever classic cocktail range mojito. It was the perfect chilled out way to start the meal.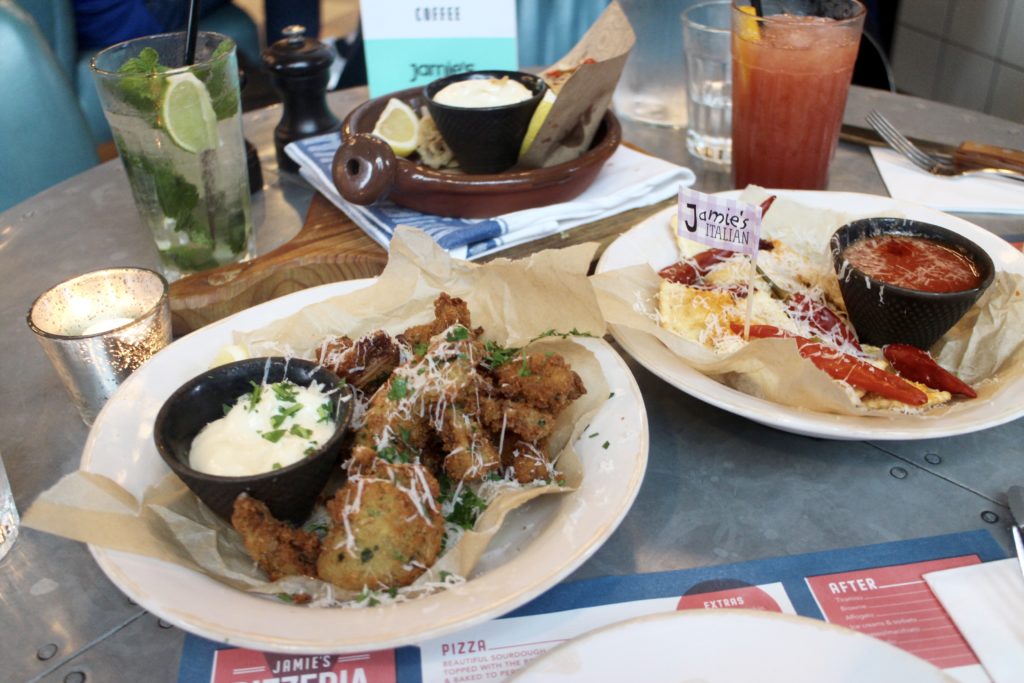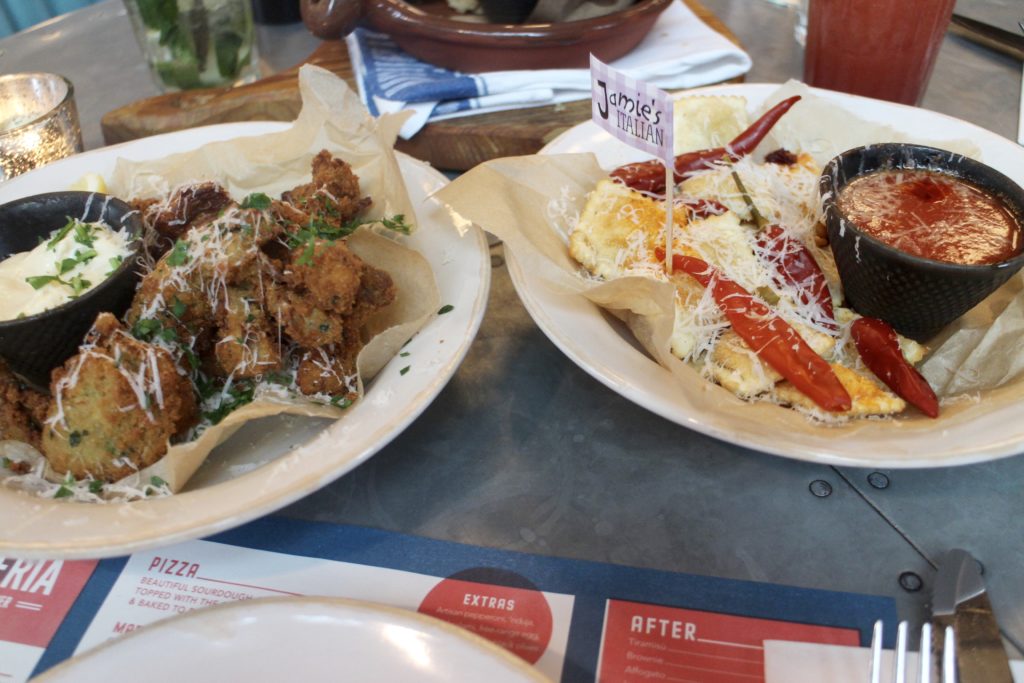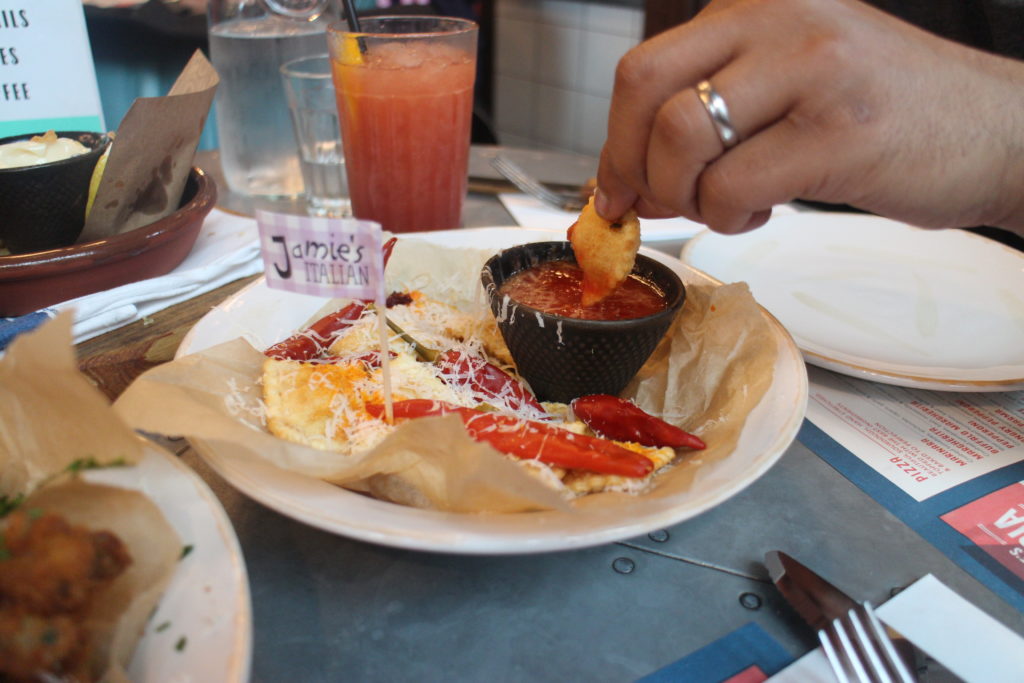 For starters we actually went for those within the bar snack menu, as the starters within the Pizzeria were mainly only different variations of garlic bread. From talking to the staff at the Pizzeria, we were, however, informed that the menu was going through an overhaul and there were potentially some new dishes being introduced into the menu.
We went for the crunchy Italian nachos – which to our surprise was actually a three cheese ravioli in spicy tomato sauce.  This was a pleasant surprise and change from the tortilla nachos you would generally expect when ordering, and we really enjoyed this starter. Also the crispy squid, which honestly, tasted like the freshest squid we'd ever had, and the mushroom fritti – breadcrumbed oyster mushrooms with a touch of herb – you cannot go wrong with this.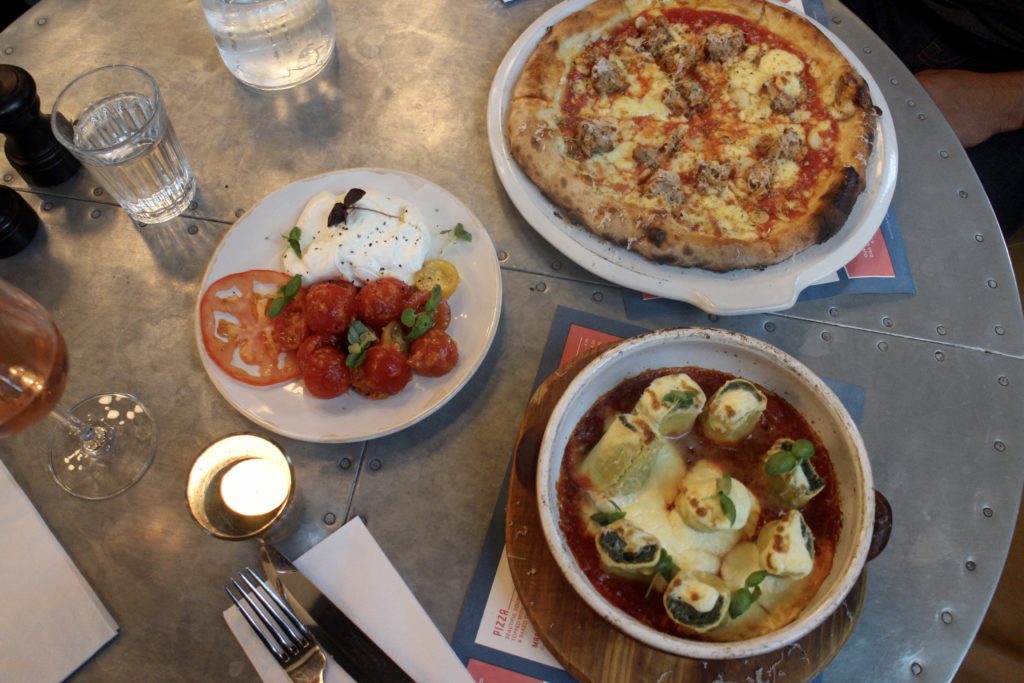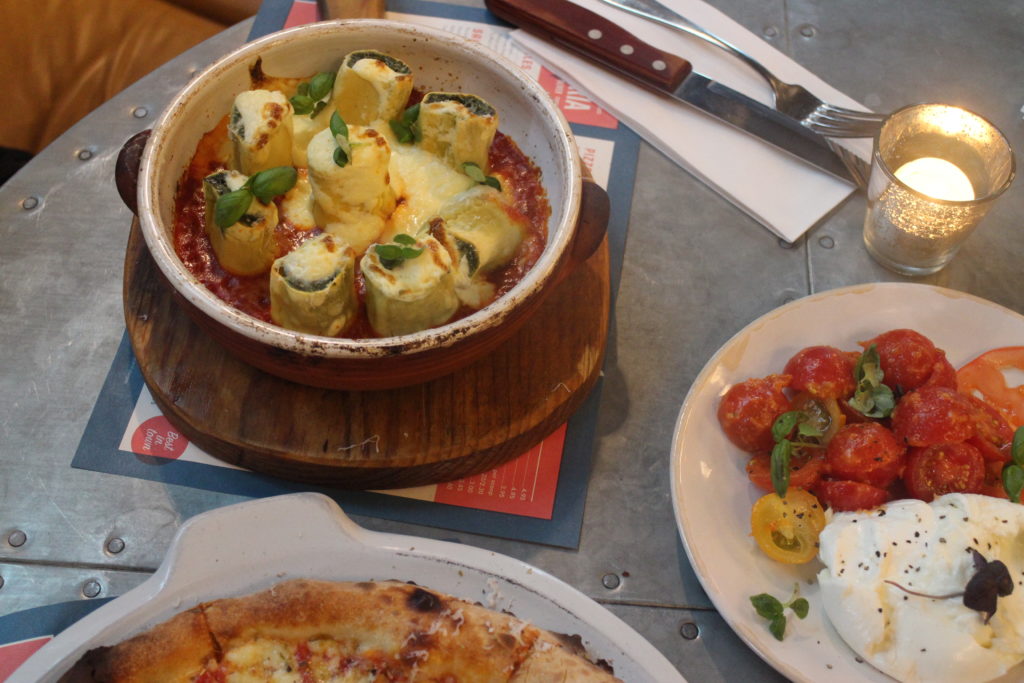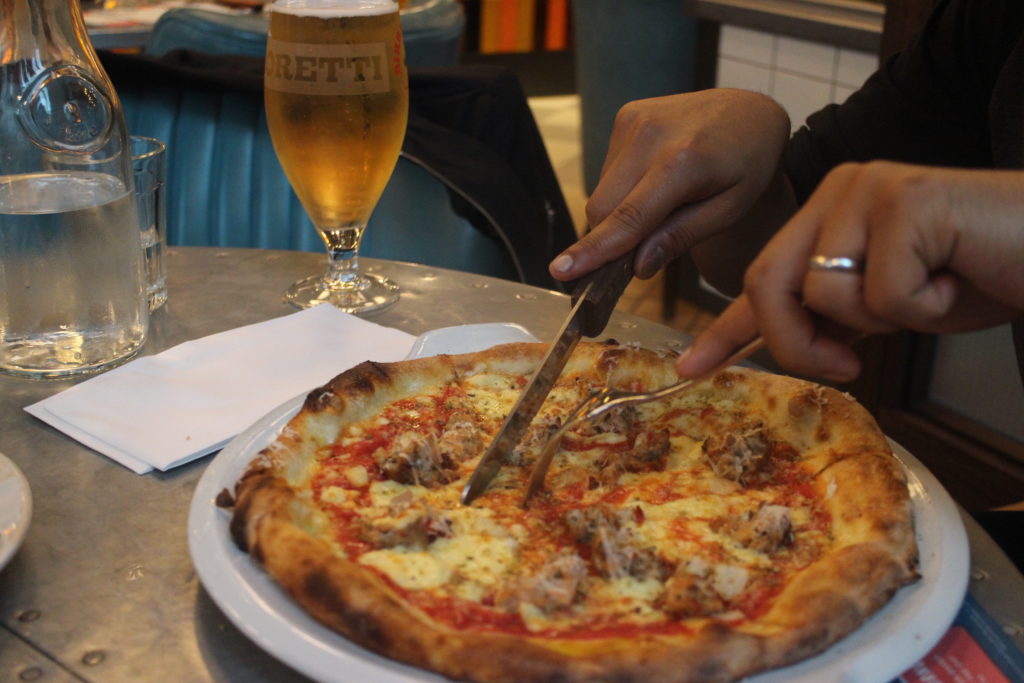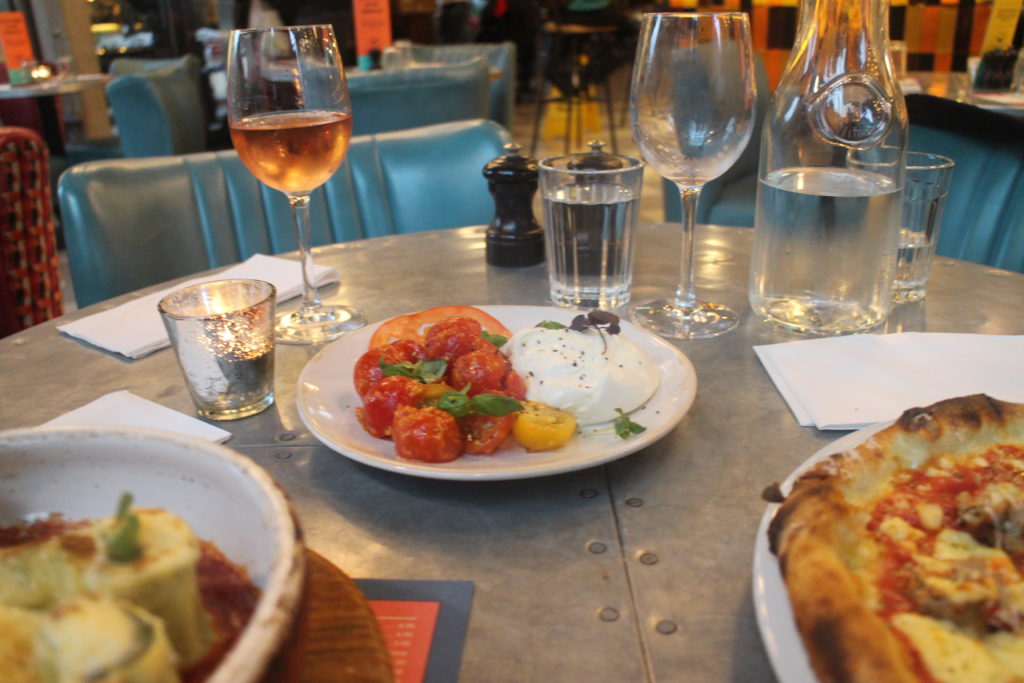 For mains I went for the Al Forno special for the day, which was cannelloni and spinach, and Ankit went for one of the pizza specialities, we also ordered a side salad of mozzarella and tomatoes. The mozzarella had actually been delivered from Italy a few days back, and honestly, tasted completely different from the general packet mozzarella you get in the supermarket. It has completely changed my view on shop bout mozzarella.
Both dishes were perfectly cooked, and the ingredients really complimented each other – leaving us completely full after the meal!
The staff within Jamie's Pizzeria were not only attentive, but extremely friendly, and go out of their way to really get to know their customers and their likes. They were happy to make recommendations and explain each dish, and the key ingredients that complimented each dish. During our meal at the Pizzeria we were given recommendations from both the deputy general manager, Matt, who even gave us recommendations of places to visit in Naples and Cesar, the Pizzeria manager, who tempted us to try out the desserts! This itself is so important of restaurants to really focus on , and Jamie's Pizzeria in Victoria hit the nail on the head here.
In all honesty, if you're looking for a quick weekday dinner, or a break away from a heavy weekend out, head to Jamie's Pizzeria in Victoria.