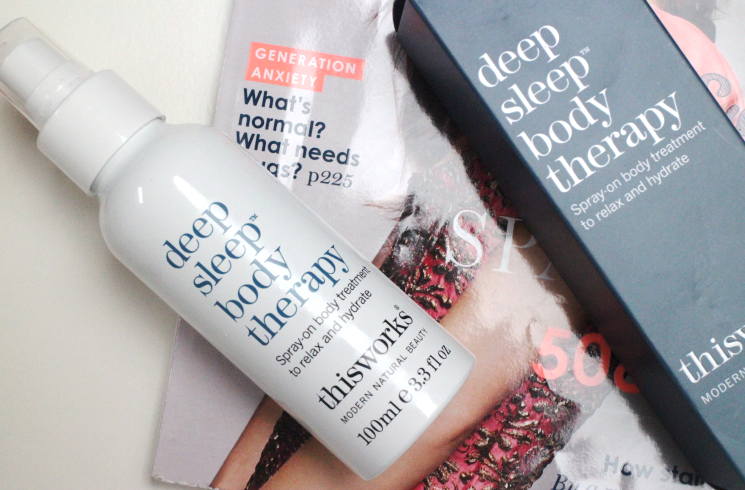 For the past few months I've had trouble getting a god night's sleep, and it's something that I have tried so many different ways to try and combat. But nothing seems to be doing the trick, effectively. I've been trying to pin point exactly why this has been the case, but haven't been able to. I've thought that it may all be down to me starting a new challenging job, however, with so many new ideas buzzing around my head, it doesn't seem like putting a stop to whatever it is, is going to happen soon.
I've always heard a lot of great things about the brand "this works", founded over 10 years ago by the former beauty Director of Vogue UK, Kathy Phillips, she went our of her way to create products for everyday life.  Kathy has an immense background in not only beauty, but yoga, being able to see the link between modern life and the struggles, but also needing to keep a balanced and healthy mind.
This Works is a successful British Company, proudly carrying out all it's research and sourcing from within the UK, making it a true British Brand. So for those who are conscious about the footprint of products, or just love products that are locally sourced, This Works is the brand for you.
I searched through the website to help find a product that could tackle my insomnia. Having seen many people rave about sleep mist sprays, and the wonders it did for them, I really wanted to give it a try. Be it, the sceptical me, who really didn't think it would work, or the inner me that was just plain interested – how on earth can a spray help you sleep?
I know quite a few people who actually use the deep sleep pillow spray by the brand, and have the spray myself, however, am yet to try it. What did catch my eye on the deep sleep section, however, was the Deep Sleep Body Therapy spray. At £20.00 for 100ml it isn't the cheapest spray on treatment on the market, however, can you really put a price on sleep?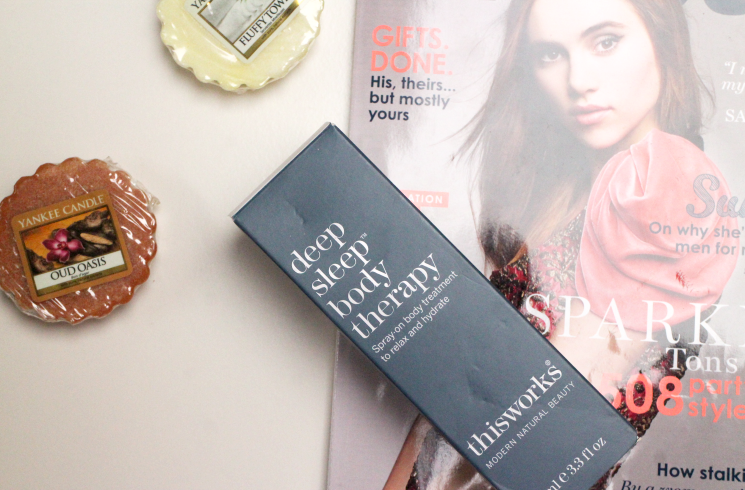 This Works have marketed and produced their deep sleep range for 10 years now, first being featured as a turn down gift at the Crowne Plaza Hotels, eventually creating major demand for the sleep range. Wanting to let the results speak for themselves, This Works really do put forward that no matter what your lifestyle is like everyone can have a good night's sleep. With countless trials conducted, they've found that 100% would recommend their deep sleep products – which itself makes it a selling point. So, I wanted to put it to the test.
The Deep Sleep Body Therapy is used as a spray-on moisturiser on your skin, which works to help soothe your skin/body and calm your mind. This Works  recommend that the spray is used just before bed, as obviously, it is a deep sleep product used to aid sleep. The Deep Sleep Body Therapy works entirely on it's own, as a fast acting solution to hydrate the skin before you nod off.
I used the Deep Sleep Body Therapy for two weeks, almost everyday, to see how it helped with my insomnia. I usually have set times when I wake up in the middle of the night, and the maximum amount of sleep I get, nowadays, is 2 hours at a time – ie. 2 hours sleep, 20 minutes awake. Obviously I want to try and find ways to put an end to this habit!
Over the 2 weeks that I tested the product, I found that I did gradually get more sleep, and wake up less often in the middle of the night. What I did find was that, although the results weren't instant, and not from day 1, by day 3 I was waking up less often and sleeping longer.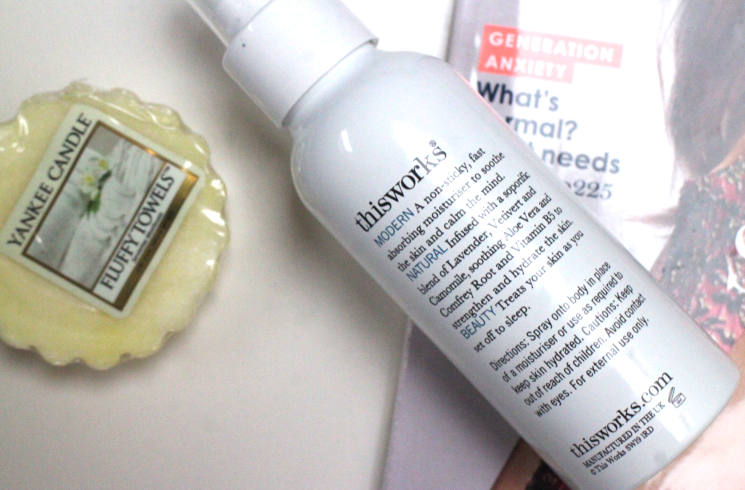 The spray-on formula meant that my skin was cooling down quicker before going to sleep – I've always found it difficult to sleep in a room that was anything but cold. The blend of lavender and chamomile created a beautiful fragrance on my skin, which lasted throughout the night and to the morning, and absorbed very quickly.
You wouldn't really need to use the Deep Sleep Body Therapy  everyday, only on occasions where you have either had a few days of broken sleep, or know you aren't going to be able to get a good night's sleep.
It's a great product that really does what it says on the bottle, it smells amazing and works effectively.
Have you tried any This Works  products before?