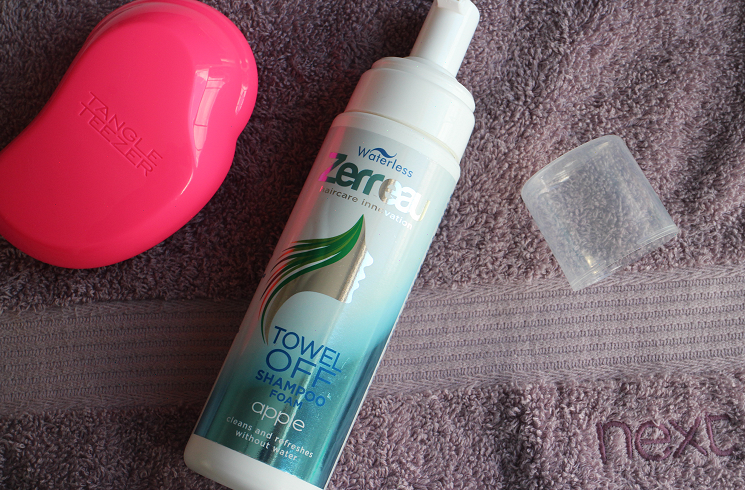 Having long and thick hair has always been something that I have dreamed of having. Ever since I was finally able to have the freedom to experiment with hairstyles and colours, I have always vowed to myself that I would grow my hair out to be a strong, and healthy length.
However, having long hair does't come without it's drawbacks. For one, it can literally take me about an hour to shampoo, condition, dry and then style my hair. So, if I'm looking to style my hair for a night out, or on the rare occasion when I don't want to tie my hair up, it requires planning. Yes actual planning, hence why it's a rare occasion for me to have the luxury of letting my tresses be free.
We all know Batiste as our savior product for those of us who want to save an hour or so when it comes to hair care. However, here are so many other brands taking a dip into the dry shampoo market, it can be hard to know which ones are worth buying. That's where Zerreau Towel-Off Shampoo* comes in.
Pronounced simply as Zero, it seems as though this little wonder, which is manufactured in the UK, is now a must-have for our dressing tables, and gym bags. If you recall, I keep dry shampoo in my gym bag for when my hair needs a quick refresh. It has proven to be a saviour on days where I go for a late night workout, and the last thing I want to do is spend another hour dealing with my hair.
The Zerreau Towel-Off Shampoo is a completely new way of ensuring that your hair is clean whilst you are strapped for time.
WHAT MAKES IT SO DIFFERENT? When I tested the Zerreau Towel-Off Shampoo I wanted to see what made it so different from a product you would naturally compare it to, the Batiste dry shampoo's. You could technically classify the towel off shampoo as a dry shampoo, as the whole point is that you don't need to physically wash your hair with water for either product.
With the Towel-Off shampoo it comes in a spray bottle, similar to that of Batiste, however the base formula is completely different. Instead of needing to spray the product directly onto your hair, the bottle uses a pump function which results in a wet foam shampoo. This itself makes it very similar to actually shampooing your hair, in contract with Batiste, it's a spray on product.
The wet foam doesn't need to be washed out with water, you can either add the foam directly to the roots of your hair, or on your hand first – which is what I preferred. You have the option to use either, whereas with a spray product, you always need to spray this directly on your hair.
With sprays, I've also found that they don't work so great against darker hair, even the products that have specifically been made for dark hair. More often than not, I've been left with white residue from using dry shampoos, which don't look particularly pleasant. The Towel-Off Shampoo isn't a leave in product either as it is a water based foam.
Available in both Apple or Strawberry scents, it leaves a long lasting, just washed smell to your hair. Just the sort of scent I would choose if I was to wash my hair with shampoo anyways.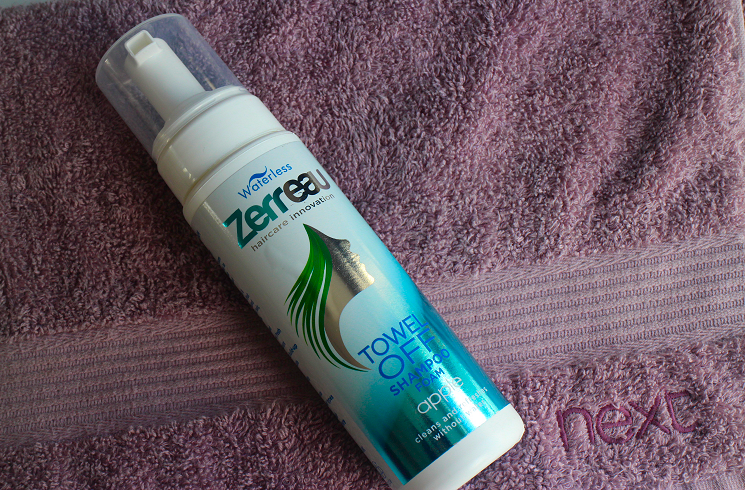 AND THE DOWNSIDES? Now although I have said that no water is needed for the foam, as expected, your hair is going to get slightly wet from using the Towel-Off Shampoo. If you were to use a dry shampoo spray, this wouldn't be the case.
If you were looking to completely restyle your hair from the night before, i.e. you had curls in and now want to straighten your hair, this product will help achieve just that. All you'll need to do is grab a hairdryer, and style as normal.
However, if, like me, there are times when you just want to give your hair a quick pick me up, and don't want to restyle, then the Towel-Off shampoo may not work for you. It really just depends on what you want to achieve.
Retailed at around £8.00 for 180ml at Superdrug it's much pricier than that of Batiste's dry shampoo, retailing at £3 for 200ml.
MY VERDICT With the foam I found that my hair was cleaned effectively, and it even removed strong hold hairsprays after being massaged in. No white marks or residue was left on my hair.
I didn't find was runny at all, a quick shake of the bottle and it was good to go. Dry shampoo's can sometimes be sticky, however, the foam was not as it is water based.
However, it is fairly pricey for what it is, and although it is an effective new way of cleaning hair I don't think I would be able to justify spending £8.00 for the convenience.
What are your thoughts on the new Towel Off Shampoo?