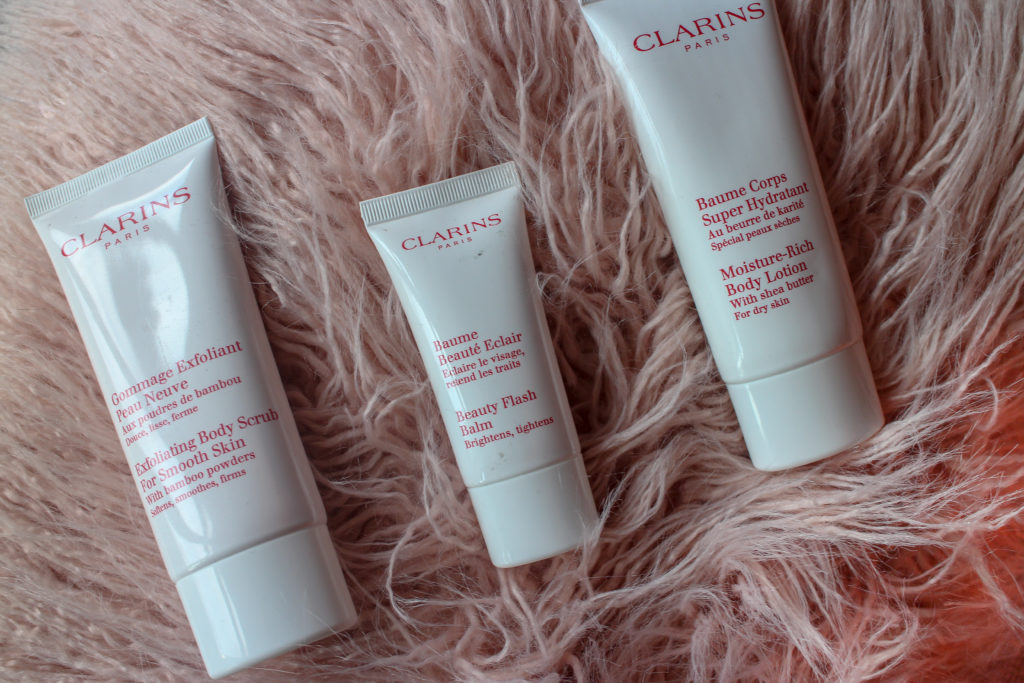 Anyone who knows me, knows that I like a good pampering session. Picture this on a Sunday evening – a glass of Merlot, a beautifully scented candle throwing fragrance in the background, a good ol' face mask and just some me time.
It always seems as though January is the time for reflection, with many of us either recycling our new years resolutions, or promising a better year than the one that has just passed. How many of us actually spend time reflecting on how busy our lives currently are, and how we have such little time to ourselves?
Wanting to add to my collection of pamper essentials, Clarins is one of those brands that scream luxury and high end to me. For me, it hasn't been a brand that I would purchase regularly, purely because I have been keeping myself on a budget, but it's also not products that I have previously used before – opting for the more high street brands, such as Lush.
On the other hand, I have heard a lot of great things about Clarins , and tend to be drawn to their counter when in a department store. The crisp white packaging of their products, with the recognisable red text against it has something of a drawing feature to them, as it represents Clarins perfectly – classic formulas to their products, and making no promises that they cannot keep. Clarins keep it simple so you know exactly what you are putting on your skin.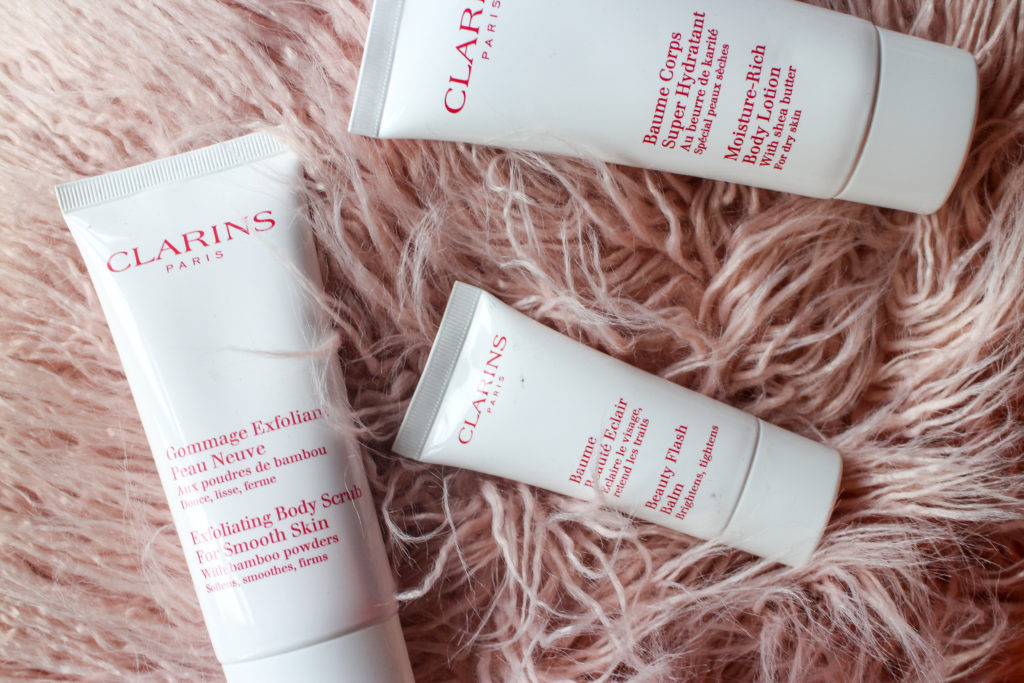 There are three main products which have really stood out to me within the Clarins range, these being the moisture rich body lotion (RRP £31), exfoliating body scrub (RRP £30), and the beauty flash balm (RRP £30). I tried out quite a few products from the face and body range – giving the makeup a miss this time round as I really wanted to focus on products that were kind to my skin, and really hit a refresh on my skincare routine for 2018.
The exfoliating body scrub is the first product I tend to use when it comes to a good pamper session. As in the name, I use this as a body scrub twice a week to help remove any dead skin cells and really firm up my skin. It always surprises me how smooth my skin ends up feeling, and how glowing it is after using the scrub. The scrub can be applied to either dry or damp skin, I prefer to use this scrub on damp skin as I feel it is much easier to really scrub the skin when it is damp.
It's a light orange in colour, which is almost similar to the the apricot scrub St Ives, and I think this was one of the key points for me – it wasn't a dark brown colour like most scrubs, whereby you can't actually see the skin cells flaking away. There are natural bamboo powders and ginger within the scrub, which honestly gives it the most amazing smell – however, if you are not a fan of ginger, you are probably best to give this one a miss.
With this scrub, you should really focus on those problem areas so knees, elbows and feet – so get scrubbing!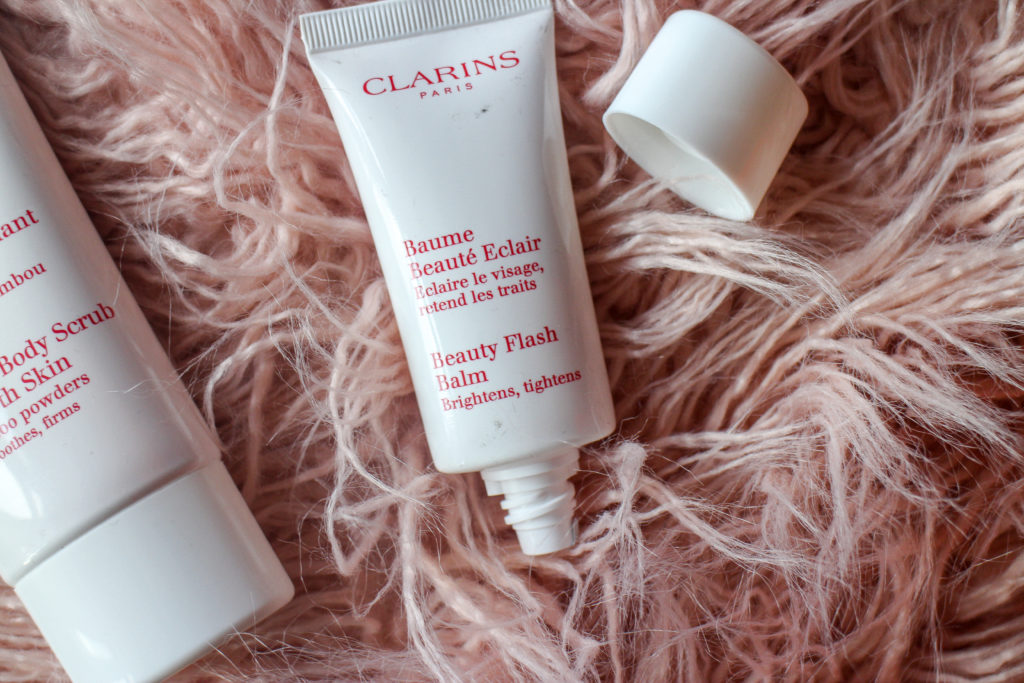 I then apply the moisture rich body lotion only to the areas that tend to be very dry during the day – this being knees, elbows, hands and feet. I only use the moisture rich body lotion on these areas as I feel this is where the lotion can really focus on what it does best.
A little really does go a long way with the lotion, and I use a pea sized amount for each area, really focusing on getting that product in. It honestly has one of the best scents, there's a mix of shea and bitter orange in this lotion, so that can give you a sense of how amazing it smells.
The lotion works almost instantly, and you feel the difference straight away. I applied the lotion to one hand, and the left the other hand unmoisturised, testing this out for about an hour and the hand with the lotion on still felt so soft. In contrast, the hand that was not moisturised was left really dry.
I wouldn't use the moisture lotion on my whole body, only on the areas that need attention, as the formula is rich – so use this sparingly on areas that really need the added glow.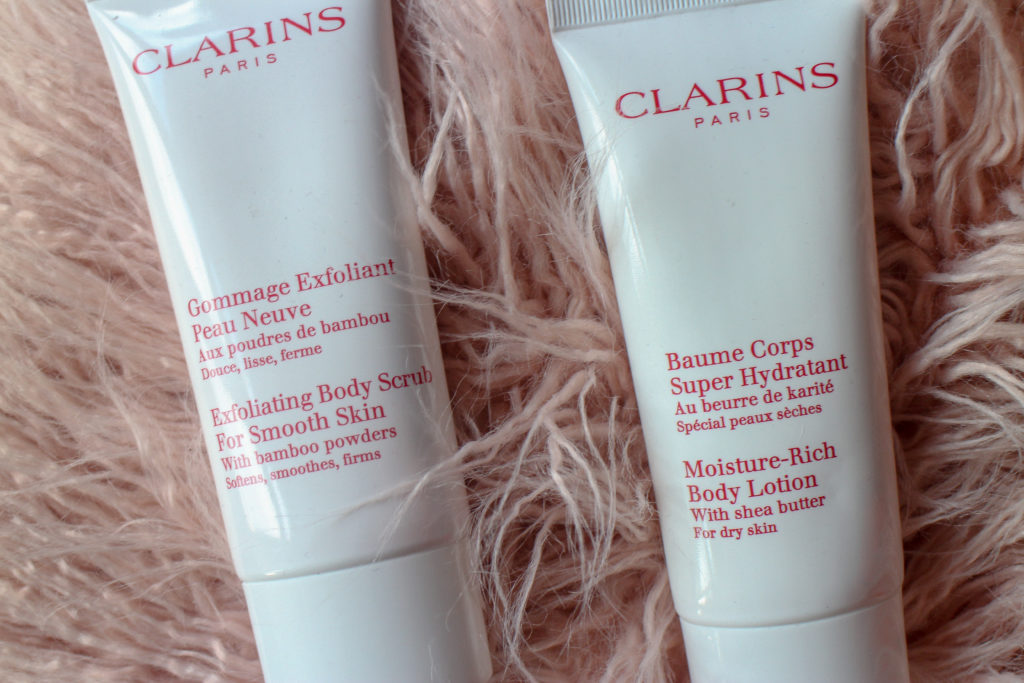 The last of the Clarins products that were my favourite, can be classified as the beauty industries very well known secret. The beauty flash balm is a cult product. It's one that can can change your tired looking face to one that is wide awake, and looks like you've had one of the best sleeps of your life. It's THAT good.
This little miracle wonder works by using olive and witch hazel extracts to smooth lines on your face, and really brighten up your complexion. It's one of those products that are essential for your dressing table, and is a god send when you've woken up not feeling 100%. Call it the concealer of skin care products, it can quickly mask away a bad nights sleep.
Wear the balm on it's own or with minimal makeup – as you won't really need to wear much after applying this balm. I left the balm on my face for a good 15 minutes before applying any makeup or eye makeup.
What are your favourite products by Clarins?