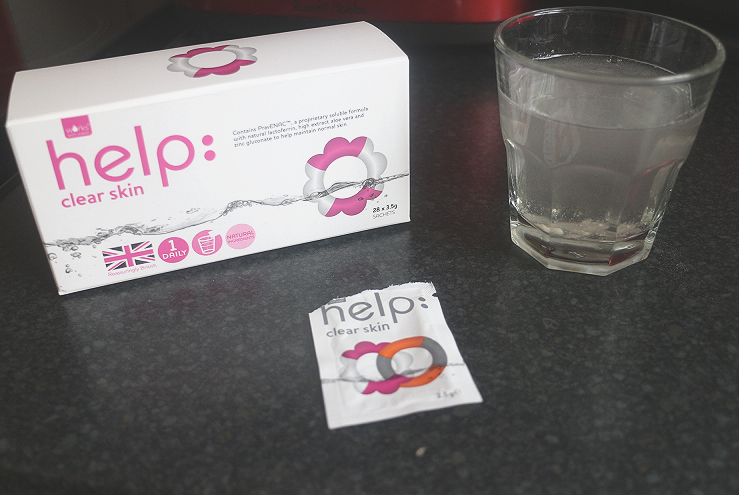 Having clear skin is something we all long for. Especially with a special day like your wedding drawing closer. The thought of a day full of having your photo taken and being centre of attention can be quite daunting, especially if your skin isn't looking in tip top shape. The Help Clear Skin* is the one secret that can be shared with you for clear skin.
Unfortunately, a third of women are constantly worried about their skin and stubborn spots that break out in areas that are visible. With this playing on our minds during our big day, we really need something to keep our skin at bay and behaving. A soluble formula has been introduced into the market, whereby all you need to do is pop the soluble table into any drink you chose, and drink it. The Help Clear Skin* is a 100% natural soluble supplement which contains an ingredient that helps reduce bacteria that is linked to acne, called Lactoferrin from milk protein. Studies and trials have shown that this milk protein can reduce blemishes by 95% in as little as two months, revealing clear and radiant skin. This is significantly important during wedding seasons, either as a guest or the centre of attention.
I trialled out the Help Clear Skin* for a month, adding it to my tea, coffee or just my usual bottle of water to see whether the soluble supplements really lived up to the studies. Usually when I add supplements to my drinks I'm generally always worried about the taste it will add to my drink, or that it will taste awful and I just won't be able to down the drink in one. But, honestly with the Help Clear Skin* supplements I didn't actually taste a thing, and it didn't alter the taste of my drink at all.
After trialling the Help Clear Skin* for a month my skin was left clear, and as if I had just been a holiday. I was glowing, which was perfect for this time of the year as in the winter your skin is nothing but dull and needing some life. As a product that can make such a big difference in a short amount of time, it is a must have product if you're soon to be married or going to a big event.
The Help Clear Skin* is a great product if you're looking for a quick fix to clear up your skin. It's a great way to get drinking more water, as it's always better to add the supplement to a glass of water. I used the supplement daily (you are only supposed to take one a day), just as a I woke up, so I made sure I had a glass of water as soon as I woke up. My skin was much less red than it had been, and it also cleared up the dry skin on my face. As the supplements are in sachets they are great products that can be taken on the go, if you don't have time to take the supplement in the morning.
Within the Help Clear Skin* is a water soluble milk protein which allows it to dissolve in not only beverages and also soft foods. If you prefer not to have the supplement with a drink you can add this onto your food, like salt and pepper. You must bear in mind, however, that the supplement isn't used as a cure to clear your skin from acne, for example, it's used as a preventive guard to conceal and let your best skin shine through.
In each sachet is more than enough product for a full glass (think pint) of water or any other drink that you want, and it's perfectly tasteless. The contents inside the sachet looks simply like powder, just make sure you give your drink a good stir to dissolve away the contents.
A great product to add to your pre-wedding or pre-event routine to clear your skin and be glowing. Help Clear Skin* can be purchased directly from the Works with Water website for £22.94.